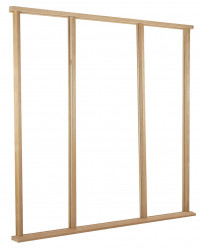 Engineered Oak Effect Vestibule Frame Kit unassembled
Product code: DRU000087
Categories: External Unassembled Door Frames
£257.99 - £262.42
Description
Engineered Oak Frame To Take Sidelights Up To 23".
The Frame can be adjusted to take sidelights from 15" to 23" wide.
Oak Effect Laminated Timber
Engineered oak door Frame flat-packed unassembled
when Fitting we recommend using a damp proof membrane under the cill this will extend the life of the frame
and stop moisture from getting to the underside of the frame
Make sure before fitting the frame you paint or stain
As once fitted you will not be able to do the sides, top or bottom.
Frame Kit includes:
2 x Jambs
2 x Mullions
1 x Head
1 x Cill
1 Plastic Water Bar
Weather Strip
Images are for illustrative purposes only